Source: PhilstarLive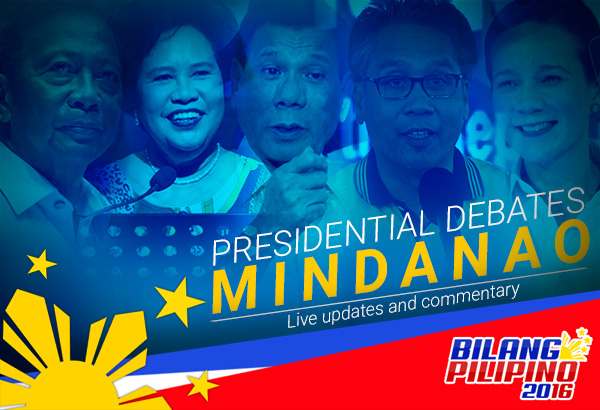 CAGAYAN DE ORO — The first round of the debates initiated by Commission on Elections among presidential candidates Grace Poe, Rodrigo Duterte, Jejomar Binay, Miriam Defensor Santiago and Mar Roxas is set on Sunday, Feb. 21, 2016.
Roxas said that he has a privileged background. He has a job. His family has something to eat, his son is privileged because he has education. He wants every Filipino to be as fortunate as him. He wants the Filipinos to be free from hunger and fear. He knows that every Filipino has every right to dream. He will be disappointed if he cannot fulfill his promises.
Poe: If I am to be elected, I will pass the Freedom of Information bill. She dedicated her final statement to Mindanao. She talked about energy problems, budget allocation and anti-corruption.
Duterte: Why am I here? Give me the opportunity to say what I can do. I promise to stop drugs and crime within three to six months.
Santiago: Elections is not a popularity and personality contest. The leader we should elect should be competent. The country deserves a good leader. It is an opportunity to educate the country on who to vote for.
Binay said that experience is the key in running the country. The current government has been underspending. He also mentioned about good governance and compassion for the poor.